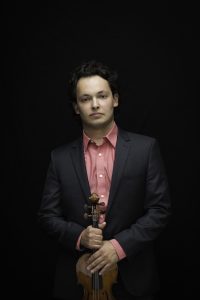 With a "dark-­‐‑hued tone and razor-­‐‑sharp technique" (The New York Times), Russian-­ ‑American violinist Yevgeny Kutik has captivated audiences worldwide with an old-­‐‑world sound that communicates a modern intellect. Praised for his technical precision and virtuosity, he is also lauded for his poetic and imaginative interpretations of both standard works and newly composed repertoire.
A native of Minsk, Belarus, Kutik began violin studies with his mother, Alla Zernitskaya, and immigrated to the US with his family at the age of five. An advocate for the Jewish Federations of North America, the organization that assisted his family in coming to the US, he regularly speaks and performs across the country to promote the assistance of refugees from around the world. Kutik's discography includes Meditations on Family (Marquis Classics 2019), Words Fail (Marquis Classics 2016), Music from the Suitcase (Marquis Classics 2014), and Sounds of Defiance (Marquis Classics 2012).
Yevgeny Kutik made his major orchestral debut in 2003 with Keith Lockhart and The Boston Pops as the First Prize recipient of the Boston Symphony Orchestra Young Artists Competition. In 2006, he was awarded the Salon de Virtuosi Grant as well as the Tanglewood Music Center Jules Reiner Violin Prize.
Kutik holds a bachelor's degree from Boston University and a master's degree from the New England Conservatory and currently resides in Boston. Kutik's violin was crafted in Italy in 1915 by Stefano Scarampella.
For more information, please visit www.yevgenykutik.com.