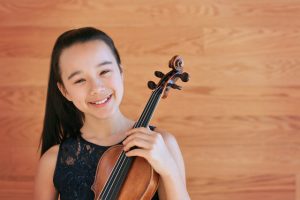 Eleven year-old Fei Yang-Sady from Concord, Massachusetts is a student of Jin-Kyung Joen at the New England Conservatory and the youngest musician ever accepted into its Youth Philharmonic Orchestra. In addition to being co-winner of this year's James R. Powers Competition, she took third prize at the 2018 Arthur Grumiaux International Violin Competition in Brussels, Belgium, and first prizes at the 2017 New England Conservatory Concerto Competition, 2016 American Fine Arts Festival, 2015 Roman Totenberg Competition, and 2015 Bay State Competition.
As a soloist, Fei has performed the Wieniawski Violin Concerto No. 2 with the conservatory's Junior Repertory Orchestra and the Mendelssohn Concerto with the Massachusetts Youth Symphony Project. She has also performed at Carnegie Hall as an American Fine Arts Festival laureate, and as a guest performer for the Goethe Institute. Recently, she participated in a masterclass with violinist Ani Kavafian.
In addition to recitals for retirement homes, schools, and socities, Fei has organized concerts to raise over two thousand dollars on behalf of the Greater Boston Food Bank, the first when she was eight years old. She has also volunteered for Open Table and Gaining Ground. Fei plays competitive field hockey, including at this year's National Indoor Tournament in Pennsylvania. She is also an avid skier and enjoys reading and watching movies in her spare time.