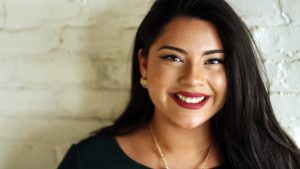 Nicaraguan-American soprano and Grand Finalist of the 2017 Metropolitan Opera National Council Auditions, Gabriella Reyes de Ramírez will be joining the 2017-2018 Lindemann Young Artist Development Program. Noted for her "generosity" by the New York Times, and praised by Opera Wire for her "dramatic voice" and "musicality," Ms. Reyes is gaining recognition in the industry. She recently finished her time with the Boston University Opera Institute this past May, where she sang in Mozart's Le nozze de Figaro as La Contessa, Tobias Picker's Emmeline as the title character, and Philip Glass' Hydrogen Jukebox as Soprano. Previously with the Boston Conservatory of Music, Ms. Reyes sang her first Contessa in Le nozze di Figaro as well as Jonathan Dove's Flight as Minskwoman, and Greek Woman in Gluck's Iphigénie en Tauride.
In the summer of 2016, Ms. Reyes debuted in Opera Hub's production of Monsalvatge's El Gato con Botas as La Princesa. Additionally, she was selected by the Houston Grand Opera to participate in the 2016 Young Artist Vocal Academy.
Engagements for the 2017-2018 season include Beethoven's 9th Symphony with the New Haven Symphony, as well as recitals and masterclasses with the Metropolitan Opera's Lindemann Young Artist Development Program under the direction of the legendary Maestro James Levine.
Soon to be resident of New York City, Ms. Reyes is originally from Meriden CT, and was coincidentally born on the same street as the famous 20th century soprano, Rosa Ponselle. When she is not singing, she can be found in the kitchen cooking Nicaraguan and Colombian cuisine as well as expanding her wine knowledge.