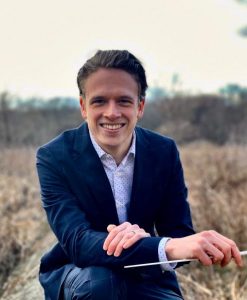 Nathaniel Efthimiou is the founding Music Director of Orchestra Contempo, the Assistant Conductor of Boston Civic Symphony, and the Assistant Director of Music at Park Street Church in downtown Boston. He recently completed doctoral conducting studies at Boston University under the guidance of Bramwell Tovey.
In 2015, Nathaniel was awarded the James Conlon Conducting Prize at the Aspen Conducting Academy, where he studied with prominent teachers such as Robert Spano, Larry Rachleff, and Hugh Wolff. His recording of Strauss's Don Juan with the Aspen Conducting Academy Orchestra has been featured on American Public Media's Performance Today. He has conducted orchestras such as the Bohuslav Martinů Philharmonic Orchestra and the Aspen Festival Orchestra and has covered the Plymouth Philharmonic Orchestra and the Rhode Island Philharmonic. In 2017, he completed an Artistic Administration internship with the Memphis Symphony Orchestra where he assisted newly appointed principal conductor, Robert Moody, and served as a member of the symphony's artistic team. While in Memphis, he started an orchestra program at Westminster Academy – conducting the orchestra and teaching private lessons.
In the pit, Nathaniel has assisted opera productions ranging from Debussy's Pelleas et Melisande, Puccini's Gianni Schicchi, and Donizetti's L'elisir d'amore. As a student at Boston University, he had the privilege of conducting contemporary operas as a part of BU's Fringe Festival, which have included works such as Tom Cipullo's provocative operetta, After Life, with the BU Opera Institute. In collaboration with the Boston University Center or New Music, Nathaniel has rehearsed works by both guest faculty and student composers.
In a partnership with Chester Music, he is currently involved in the publication of newly edited and typeset editions of select works by British composer, Elizabeth Maconchy. He currently resides in Boston, MA with his wife and son.