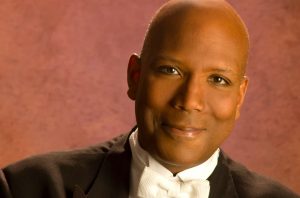 Baritone Philip Lima has regularly garnered critical acclaim for his performances on both concert and operatic stages: "His singing was glorious" (The Boston Globe) – "vibrant baritone and a commanding presence" (Cleveland The Plain Dealer) – "keen musicianship along with total dramatic intention." (Opera News ONLINE).
He has sung leading operatic roles for the international Kurt Weill Festival in Germany, numerous regional American opera companies, and the Handel & Haydn Society in works ranging from Handel's Semele and Mozart's Così fan tutte to Saint-Saëns' Samson et Dalila, Puccini's Madama Butterfly and Tosca, to Ullmann's Der Kaiser von Atlantis, Barber's Vanessa, Britten's The Rape of Lucretia, and Gilbert and Sullivan's comic classics The Mikado and The Pirates of Penzance. Of particular note have been his featured roles in the world premieres of operas by jazz greats Leslie Burrs, Nathan Davis, and Mary Watkins, and by award-winning composer Larry Bell.
Mr. Lima has appeared as soloist with the Boston Pops and over seventy orchestras, choral societies, and concert series across the United States and in Korea and Ukraine, singing
major works such as Bach's St. John Passion and Ich habe genug, Beethoven's Symphony
No. 9 and Mass in C, Bernstein's Arias and Barcarolles and Mass (major excerpts), the Requiems of both Brahms and Fauré, Dave Brubeck's The Light in the Wilderness, Copland's Old American Songs, Handel's Messiah, Haydn's The Creation, Mendelssohn's Elijah, Orff's Carmina Burana, Mahler's Kindertotenlieder, Mendelssohn's Grosse Festmusik zum Dürerfest (U.S. premiere), Ravel's Don Quichotte à Dulcinée, and the major choral works of Vaughan Williams. He has been acclaimed for his performances with numerous orchestras—including the Boston Pops—of Lee Hoiby's setting of the "I Have a Dream" speech of Rev. Dr. Martin Luther King, Jr.; and is featured on the recording of pioneering African-American composer Florence Price's Abraham Lincoln Walks at Midnight that won the 2020 American Prize for the Performance of American Music.
As a solo recitalist, Mr. Lima debuted in Rome with a concert of spirituals in 2000, and has performed frequently at Boston's historic Jordan Hall. His performance of Schubert's Winterreise with pianist Beverly Orlove was cited by The Boston Phoenix in an annual summary of Boston's "Unforgettable Classical Events."
A native of New Bedford, Massachusetts and an alumnus of Yale University, Mr. Lima studied at the Tanglewood Music Center and Boston University, and with Richard Conrad; and is the Assistant Chair of Berklee College of Music's Voice Department. More information about Mr. Lima is available at www.philiplima.com, and at his YouTube channel, PhilipLimaSings.